ENVIRONMENTAL RESPONSIBILITY
WE CARE
We are aware that as a growing business we have also growing environmental & social responsibility and that our planet and its people are what we depend on. Here are some like-minded partners who help us on our way.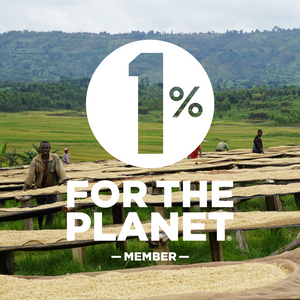 1% FOR THE PLANET
1% for the Planet is a global organisation that exists to ensure our planet and future generations thrive.
As a 1% for the Planet member we support environmental nonprofit organisation by giving 1% of our yearly sales to them - whether or not we are profitable. 
"When you support 1% for the Planet, you are supporting a future where businesses are collectively taking responsibility for climate action. We can all do our part. We can all protect. We can all give back. We can all pay it forward."
ONE TREE PLANTED
Teaming up with One Tree Planted  (a non-profit organization focused on global reforestation) is another step for us to offset our emissions by giving back to the environment. 
For every 1kg sold, we donate £1 to One Tree Planted:  $1 = 1 tree planted. 
TREES PLANTED
Shakisso, Ethiopia: 644 trees planted in Ethiopia
Nelson Mejia Cordova, Peru: 980 trees planted in the Andes
Reko, Ethiopia: 250 trees planted in Ethiopia

Kibingo, Burundi: 600 trees planted in Uganda for Jane Goodall Institute
Andrea Costa, Brazil: 400 trees planted in Brazil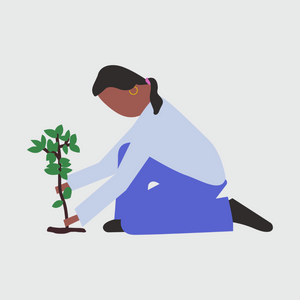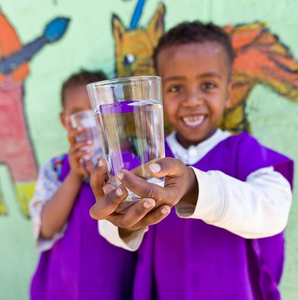 PROJECT WATERFALL
Project Waterfall is a charitable initiative working to bring clean water, sanitation and education to coffee-growing communities across the world. 785 million people around the world don't have access to clean water. The majority live in isolated, rural areas – the same areas growing our coffee.
In partnership with Project Waterfall, we have also introduced 20p paper cup charge for takeaway drinks which encourages us all to reduce our waste by bringing a re-usable cup. All the proceeds go to Project Waterfall.
DONATIONS TO PROJECT WATERFALL:
In 2020: £304
In 2022: £1805
In 2023: £2484
Check here what's been achieved already!
BIO-BEAN
Bio-bean collect our used coffee grounds to transform the (otherwise) waste product into coffee logs (burning more efficiently than kiln-dried wood, and provide a sustainable alternative to conventional solid fuels), coffee pellets (used in biomass boilers to generate heat and energy) and into biodiesel for some of the London buses.
By recycling the waste coffee grounds, we release 80% fewer emissions than sending the grounds to landfill.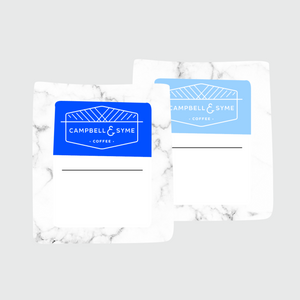 RECYCLABLE COFFEE BAGS
In a search for perfect coffee bags solution, we only found out that there's no such thing as a perfect coffee bag.
As magical as compostable and biodegradable materials sound, the reality is different. Compostable materials need to go through industrial composting process in order to be broken down, therefore they cannot be disposed with your green waste. As for the biodegradable materials, everything is essentially biodegradable, it's only the matter of time. The issue with biodegradable packaging is that it will only break into smaller particles that we know of as micro plastics which can be harmful to animals as well as to humans.

Recyclable materials are most certainly not to be celebrated either. UK recycling system could appear challenging, and it is the best to contact your local council to find out what can and cannot be recycled. That being said, it doesn't always mean everything will get recycled at the end.

We have made a made a decision to stick with recyclable materials at the end and take care of the recycling process ourselves. First Mile recycling analysed our coffee bags in their lab and recycle our packaging in one of their facilities. We have recycling box in our store in N2 as well as at the roastery so please return the empty bags to us and we will take care of the rest. If you wish to send us empty bags back, please contact us via email.
REUSABLES & CO2 NEUTRAL SHIPPING
Waste is simply not great, we all know.
To reduce the unnecessary waste, we introduced  reusable tubs and crates instead of single use bags and boxes to our local wholesale family and where we need to ship, we re-use boxes we receive our deliveries in. We ship in recycled enviro-boxes that use less material when we cannot re-use. We have reduced the packaging & carboard consumption by 60% in last two years.
Parcels that are sent to destinations we are unable to deliver ourselves are sent by DPD CO2 Neutral service. DPD has developed detailed understanding of their emission in last 5 years by measuring their carbon footprint. Where unavoidable CO2 is produced, DPD will offset the emissions through their carbon reduction projects.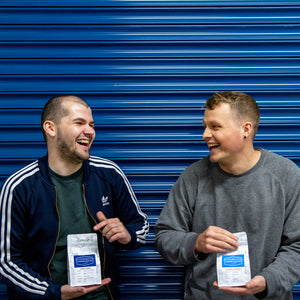 LIVING WAGE
We believe that long-term investments always pay off and that includes investing in our team.
Offering to pay each team member above the London Living Wage is not only right thing to do, it just makes sense. We want a team of like-minded and motivated people who will provide our customers with a great experience and are rewarded accordingly. We think that's fair, don't you?